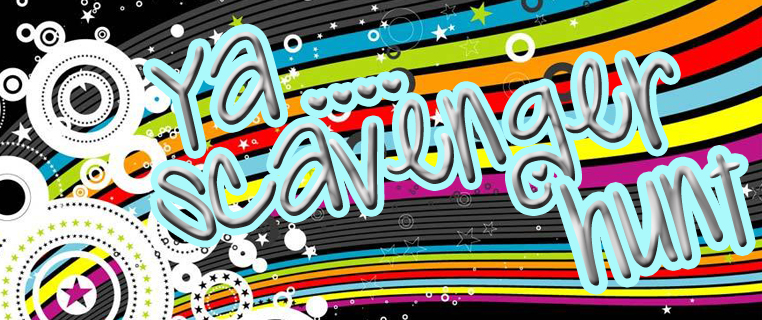 The first YA SCAVENGER HUNT was such a success we're doing it all over again. This time it's running
Dec 1-Dec 4
(noon Pacific time). I'm thrilled to be part of it again and we have some new AMAZING authors who have decided to join in the fun. Like the last time I'm hosting an fabulous author here and you'll be able to find my bonus material, a deleted scene from Carrier, on
Gregg Olsen's
site.
Each author on the hunt is hosting another author's bonus material AND a link to the next step of the hunt. Take some time out and work your way through the entire hunt collecting the words in red and entering all of the different contests you will find along the way. It will be worth the effort for the epic prize the grand winner will receive.
This year I have the pleasure of hosting the gorgeous Lani Woodland.
Lani Woodland has been an avid reader since elementary school when she first discovered the Babysitters Club and Sweet Valley Twins series. In sixth grade she began writing plays and recruiting (with force when necessary) her friends to act them out. Most of these early works were inspired by She-Ra, the epitome of girl power to her young self.
She graduated from BYU with a BS in Family Science. Lani has always loved scary stories, and has a hard time enjoying any book without at least a little romance in it. She lives in Southern California with her husband, their two children and a large collection of board games. She has worked as a spot-welder, babysitter, janitor, photographer, gymnastics coach, and movie extra. She enjoys bonfires at the beach, hole-in-the-wall restaurants, speed talking, chocolate as a cure-all, and the word "precisely".
Check out Lani's website here
Lani's novel, INDELIBLE, is the sequel to INTRINSICAL, and is the second in the Yara Silva Trilogy. It is available from:
Yara is beginning to understand just how much her life will change now that her Waker abilities have emerged. She has come to terms with the fact that seeing ghosts is part of her life, but she isn't ready to let being a Waker dictate her choices. All she wants is a ghost-free senior year with her boyfriend, Brent, and her best friend, Cherie. But Yara soon discovers that there are more dark secrets in her school s history than just the curse she broke. While an angry ghost makes Yara question everything she thought she knew about spirits, she and Brent learn that there are long reaching consequences to last year s adventures. As new enemies emerge and old ghosts resurface, Yara finds herself in the center of another deadly mystery, and this time she has to contend with the living as well as the dead.




For now for

Lani's scavenger hunt

BONUS MATERIAL! A deleted scene! The original

opening from INDELIBLE.


The ghosts' eyes followed me down the long white hall. Two months earlier, I'd been in this same airport on my way to Brazil, and I hadn't seen any spirits when I left. Had they recently appeared here to haunt travelers, or had I grown more sensitive to seeing them? I really hoped for option A. Their looks jabbed me just as intently as any finger or elbow as I navigated my way down the corridor. I struggled to breathe normally, to pretend my skin didn't chill at their presence. My hands fidgeted with the straps of my backpack as I concentrated on putting one foot in front of the other.
What alerted them to my ability to see ghosts? It wasn't like I had 'Waker: can see and talk with ghosts' stamped across my forehead. Did honing my spirit skills mean that ghosts could now pick me out from the hundreds of random faces walking through the Ontario, California Airport? Aside from being
transparent
, they looked like normal people, not the hideous and grotesque specters seen in movies. But being singled out by them was unnerving.
One by one their eyes turned from the crowd and stared straight at me. The pressure of their gaze pushed against me. My skin started to sweat icy beads of perspiration. Some followed me now; they wanted my help. I could almost choke on their desire for my ability. Trying to distance myself from them, I picked up my pace. I pushed my way through the crowd, wanting to hide in the swarm of people, to losing myself in the cloud of cologne, perfume and sour B.O. that radiated from the group. Freaked and overwhelmed, I stumbled over a wheeled suitcase, narrowly saved from a face-plant by the steadying hand of a faceless do-gooder. I yelled 'thanks' over my shoulder and kept moving forward, trying to outrun my destiny.
The white walled hallway seemed to narrow before me, ending in a brilliant burst of sun coming from the windows, reminiscent of the legendary white light people see when they die. The light that I had seen last year. When I drowned. I hadn't gone into that light; Brent had dragged me from it, pulling me into limbo where I had been forced to relive my death every night, and had miraculously been able to change fate and live again. My steps slowed. If I could survive that, I could handle the ghosts. I had to. I took a deep breath before continuing at a normal pace, but my freak out seemed to have lost my throng of following ghosts.
At last I reached the staircase, the last barrier between my boyfriend and me. I hadn't seen Brent since I left for Brazil, and although we had talked on the phone, I had missed him. I needed to look into his warm, loving eyes and feel his strong arms around me. At the top of the stairs I paused, like the leading lady in a romantic film, so that I could scan the crowd for the sexy chocolate brown eyes of my leading man.
The crowd around me shuffled in agitation as they flocked down the stairs en masse. I ignored them, standing like a boulder in a stream, still searching. It didn't take long to find him; he had positioned himself right in the middle of the staircase, paying no mind to the evil looks other people shot at him for being in the way.
My insides went softer than warm taffy at the sight of him. I hadn't thought it would be possible, but I swear he had grown even more gorgeous over the summer. Or maybe pictures, memories and online video chatting couldn't compete with the real thing. In those romantic movies, this 'boyfriend waiting at the airport for his girlfriend' scene always looked so swoon-worthy, but they didn't do the real moment justice. Knowing his strong arms were going to encircle me, that his soft lips were going to kiss me, made every sappy airport scene pale in comparison. Those were nothing more than black-and-white movie posters compared to the vibrant color of the authentic moment. I loved being the heroine of my own life, especially when I had Brent as my co-star.
"Yara!" His familiar voice called when he saw me. He raised one hand in greeting; the other held a bouquet of Gerber Daises, my favorite flowers.
I grinned at him and bounced on the balls of my feet, before pushing off the top step and bounding toward him. My backpack slapped against me, the corner of my book digging into my spine as I maneuvered down the steps, squeezing around people in my effort to get to Brent faster. He grunted a little as I threw myself into his open arms but he caught me securely and swung me around in a gigantic hug.
***
AND THERE'S MORE! I have 2 competitions you can enter.
YA SCAVENGER HUNT CONTEST
As an extra bonus we've put together a puzzle with one keyword found on each website. Complete it and you will be eligible for a fantastic GRAND PRIZE which will include signed editions of books, signed bookmarks, jewelry, and many more exclusive gifts with at least one gift from EVERY AUTHOR!
Directions

: Unscramble the words as you proceed through the Scavenger Hunt. Search for keywords, one on each website that will be highlighted in RED. When you are finished,
follow this
link
to unscramble your words!
Rules
: To be eligible for the grand prize, you must submit this filled in puzzle before noon on Dec 4th Pacific Time. All the keywords must be in the correct place and you must include your full name and address. Entries sent in without name and address will not be considered!
My Comp!
Enter to win a gorgeous prize pack including a, signed copy of Carrier of the Mark (Choose between first edition US version or the very pretty rare hardback Italian edition), various signed bookmarks, a Celtic silver metal bookmark (all the way from Kinsale, Ireland), a Half-Blood guitar pic, and an uber pretty pair of black feather earrings . This is open Internationally.
There are 6 entries up for grabs. Here's how to get them. Do as many or as little as you like, that's entirely up to you.
Follow me on Twitter
Tweet this link with a #CarrieroftheMark hash tag
Like My Facebook page.
Follow this blog.
Leave me a comment in the comment box with your contact details.
Ready to go to the next website on the Scavenger Hunt?